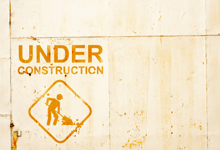 December 17, 2010
This is one of a regular series of posts on website updates and maintenance. This week I worked on the web site layout.
Updated Menu:
The main menu has been cleaned up to now include my website name and better menu item separation. With these small changes it should make the navigation feel more complete and easier to navigate.
Removal of Wasted Space:
The previous layout had a large open space between the navigation and the content which really didn't help the website. Though whitespace is needed for websites, I felt that that this extra space wasn't needed and took up too much space on laptops and netbooks. Removing this extra space should help bring the content up to the top of the page where you can enjoy it.
New Footer:
One of the goals of this website is to be user accessible and I feel that footer on this website has been largely ignored. The new footer has been given more space and in future updates I will be including a navigation system, links and information which should help make this site more accessible.
New Single Page Layout:
Single page posts now uses a two column layout instead of a miss mash between a 2 and 3 column layout. What this means is that I can provide larger images and video into my posts. This should also help reading the content since your eyes won't have to work as hard; thanks to the wider room for writing.
Removed Background:
The busy background has been removed. Instead of a black and striped background, I have changed this to a subtle grey. This grey should help your eyes relax while viewing the content in the posts. This small change will also help the website load a tiny bit faster.
Making the Site Mine:
The "Grab Our RSS Feeds" image and link have been removed. This was part of the original template and it never flowed well with the site since this website is only mine. I will be adding a new subscribe button later on.
Various Layout and Code Changes:
The comments section has been widened. Comments are the same width as the post.
All rounded corners have been removed in an effort to remove all elements that may be distracting and that add to the overall load times.
Various elements have been re-written or removed from the back-end of the website. The code is being tailor down to make the website load much faster.
Let me know what you think about these changes, I hope you like them.