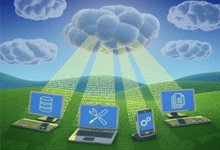 December 09, 2010
I love the cloud. Do you?
Nearly all of my services are in the cloud, making it possible for me to access them anywhere with almost any device.
My Services in the Cloud:
Email (Gmail)
Pictures (Picasa Web)
Calendar (Google Calendar)
Contacts (Google Contacts)
Music (SugarSync, Orb Live and Pandora)
Notes (Evernote)
Inspirational Artwork (Evernote)
Documents (Google Docs, Evernote and SugarSync)
Books (Kindle and Google ebooks)
Now all I need is one last service to make me really happy… for now.
I need/want Audible to be in the cloud.
I listen to books almost everyday and I would love to be able to listen to my books on my phone like I do now, then grab my netbook or HTPC and pick up where I left off. I can do this now with Movies, Music and eBooks, so I hope Audible will add this soon.
Would you want this? What service do you want in the cloud?