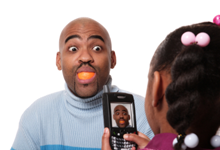 November 18, 2010
Camera phones are now able to record in HD video, and more people are recording content and uploading it you youtube everyday. This is great for watching more videos, but this brings up a new issue.
Some videos are in landscape mode which looks great on websites, but now some videos are also taken in portrait mode, leaving huge black bars on either side.
Check out the embedded video below, showing the black bars.
It would be great if YouTube gave us the option to removed these black borders from videos. Removing the black bars would make it possible for all video dimensions, both horizontal and vertical, to be displayed cleanly on websites.
Do you take any videos with your phone? What do you think, do the black bars bother you?