April 15, 2010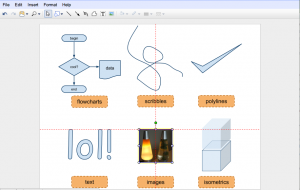 Over the past few years that I have been doing freelance work I have come across a handful of tools which allow me to create wireframes,  flow diagrams and general project plans. Most of these tools are free, but tend to give you a limited number of features. April 12th 2010 this has all changed.
Google released a new Google Docs format called "Drawing". In this drawing tool I am able to easily create wireframes, flow diagrams and other project planning techniques without having to "learn" the tool. Granted this lacks some useful features found in dedicated project planning tools like sticky lines and stock images, but it offers multiple reasons for it to become my new project planning tool.
Here are some of the key benefits to planning web projects with Google Drawing:
Able to save the wireframes and flow diagrams then import them into other Google Doc files for better project planning.
Able to share wireframes and flow diagrams easily with clients
I can collaborate with clients on the fly (Up to 40 people at once)
I can publish to the web so that my clients can download a large file
I can save it out to multiple formats: PNG, JPG, SVG and PDF
Built in snap/align tool
Here is a sample wireframe and flow diagram that I created with just a few minutes of opening the tool for the first time.