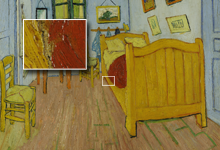 February 01, 2011
Today is a big step forward for art lovers around the world.
Google as teamed up with some of the most famous art museums around the world and has combined Google Street View with a 7-gigapixel camera to give every person around the world the possibility to view these museums and their works of art.
Google's Art Project is yet another part of Google ambitious goal to organise the world's information and make it universally accessible and useful.
A Behind the Scenes Look at the Google Art Project:
Museums that are Currently Part of Google Art Project:
Alte Nationalgalerie, Berlin – Germany
Freer Gallery of Art, Smithsonian, Washington DC – USA
The Frick Collection, NYC – USA
Gemäldegalerie, Berlin – Germany
The Metropolitan Museum of Art, NYC – USA
MoMA, The Museum of Modern Art, NYC – USA
Museo Reina Sofia, Madrid – Spain
Museo Thyssen – Bornemisza, Madrid – Spain
Museum Kampa, Prague – Czech Republic
National Gallery, London – UK
Palace of Versailles – France
Rijksmuseum, Amsterdam – The Netherlands
The State Hermitage Museum, St Petersburg – Russia
State Tretyakov Gallery, Moscow – Russia
Tate Britain, London – UK
Uffizi Gallery, Florence – Italy
Van Gogh Museum, Amsterdam – The Netherland
This amazing new site definitely makes it possible for people who are less fortunate and can not travel to be able to see some of their favorite pieces of art in their natural habitat.
Check out Google Art Project today!
What is your favorite painting? Share the link in the comments.