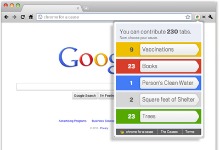 December 15, 2010
Tabs for Charity!
Google just released a Chrome extension which will donate items based on the number of tabs you have open in a day.
How it works:
Everyone's total tabs will determine a charitable donation made on behalf of the Chrome community, up to one million dollars. Here's what your tabs can do:
10 tabs = 1 tree planted
10 tabs = 1 book published and donated
25 tabs = 1 vaccination treatment provided
100 tabs = 1 square foot of shelter built
200 tabs = 1 person's clean water for a year
To find out more about this effort and the organizations we're partnering with, visit google.com/chrome/intl/en/p/cause/.
Want to participate?
How to Participate
Browse the web with Chrome between December 15 – 19
At the end of each day, you'll be prompted to click on the extension to submit your tabs
Choose which charity you'd like to support with that day's tabs — you can always support the same charity, or pick a different one each day
Be sure to check out the Browse For A Cause Blog Post
Please help, if all it takes is to use Chrome, install an extension and browse the web to save a life, then this is the least we can do to help.