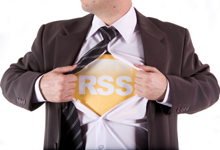 November 15, 2010
The sheer amount of content is growing, thousands of websites launch each day and the days of visiting your favorite sites are over.
A few years ago it was normal to visit your favorite website, blog or even TV show to catch up on the latest news, but now with so much content out there you probably don't have time to visit each one and you've probably cut down on the sites that you visit all together. Well it's time to cut the cord on visiting websites and it's time for those sites to come to you: this is where an RSS Reader comes in.
An RSS reader is a simple tool that pulls in content from your favorite site, blog and even TV shows (Hulu or a TV stations website) and pushes that content out to you. Think of it as a modern day newspaper subscription coming to you each morning, but instead of coming to you once a day, it comes to you as it is created and posted online. Check out the videos below to get a great overview of how RSS works.
See how simple that is? Now I'm sure your thinking that an RSS reader is expensive since it has to go out and grab the content for you, but even though there are some paid RSS Readers, many of the best are free.
RSS Reader List with price and functions
I personally use Google Reader because it offers the best functions such as email, commenting, sharing, notes, favoriting, grouping and online And offline support for free and other great RSS readers actually sync up with your Google Reader account, giving you even more features.
So give one of the RSS readers a shot and let me know which one that you like best. I can't wait for you to see how this changes the way that you get your news and information.
What is an RSS feed? Check out the RSS Feed Wikipedia Article