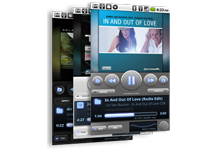 November 11, 2010
Just about a week ago I was introduced to the PowerAMP music player for Android. The only thing that I have to say is… WOW!.
So many music players are introduced on Android that it's hard to keep up. 90% of them are the same type of player and lack many of the basic features such as; playing music smoothly, easy to access: tracks, albums and artists.
When I first got my hands on PowerAMP I'll admit, I didn't have high hopes due to all of the other music players, but my first 30 minutes with the PowerAmp app, I fell in love.
The Good
Fast player
Homepage widget
Equalizer
Playlist editor
3 different themes
Lock screen controls
Set any track as a ringtone
The Bad
Getting to the tracks, artists, albums and playlists isn't as easy as it could be. It takes 2 steps when it could take one
There are no player controls in the status bar
The Ugly
The one problem that I found is that by default, when I have my phone locked and listening to PowerAmp and I get a message (either email or SMS) I am able to get full control of my phone, without unlocking the phone, just by opening the message. Since the lock screen widget shows the status bar, I am able to access anything in it, which can lead to security issues. You can turn this off in the settings, but it would be nice if this was off by default for security reasons.
Overall
Overall this is hands down the best music player for Android and I have made it my default MP3 player. So give the free trial version a shot if you can get your hands on it, it is definitely worth it.
QR Code