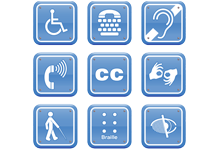 October 22, 2010
One of the things that I'm passionate about is trying to make websites for everyone. Not just the majority of us that can see, hear, and touch just fine, but also for people who have trouble doing the activities that we take for granted.
I just read Google's blog posts "Optimize a site for Google TV" and it hit me. Not only is Google making it possible for people to view websites on a larger screen with more accurate sound systems (which is better for both people with vision and hearing problems) but they are also making it more important to use the directional pad(d-pad/arrow keys) when navigating a website (which is better for people who have trouble typing or moving a mouse).
Of course other companies such as Microsoft and webTV have had home theater pc's for years and make it possible to view websites using your TV, but no one has really pushed for websites to be optimized for better viewing and navigation, until now.
With Microsoft and WebTV they were software companies looking to make it possible for you to view web content using your TV, with Google they are a web company looking at making the web accessible and viewable everywhere. This small difference is what I think will make the web a better place for everyone.
Most websites on the web are not accessible in one form or another, but bringing the web to the living room and encouraging developers to use the directional keys for navigating and larger text and layouts for viewing, will make it possible for people with disabilities to finally enjoy the web like everyone else.
As Google creates software upgrades and advancements to Google TV, I will be writing articles to cover what features they have added which makes viewing content more accessible.
Do you think Google TV will help the web or do you think that it will add yet another complex area for developers?
If you are a developer and are interested in checking out Google's guide to Optimizing a website for Google TV then check out the developers website at http://code.google.com/tv/web/