August 25, 2010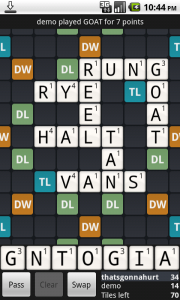 Today Wordfeud users get the much anticipated feature of rematches. This may sound like a simple feature, but it really makes playing wordfued that much better and it has been one of the few things that have been missing from the game. The only thing left is a paid version so that I can get rid of these ads.
Do you play wordfeud? If so what is your username, mine is amaxwell01
Hit me up sometime if you want to play a game of scrabble.