July 01, 2010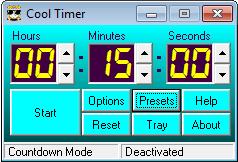 Since I started to do freelance full time I have noticed that I can easily get distracted by simple things, like checking social media sites, reading emails, writing emails, switching projects and before it became a habit I wanted to stop it, and make sure that I am focused.
I started to use the timer on my iPhone and set it for 15 to 30 minutes, during this time I would not do anything except for the one subject that I wanted to focus on. After a few days I have noticed that I am able to get twice as much work done in a single day, than I did with out it.
It surprised me how much time I get side tracked or multi-tasked even by other work and how this limits the amount of work that I can complete in a single day.
Using my iPhone was great at first but I wanted an even easier way to do this without bringing out my phone 16 times a day. So I did a bit of Google-ing and came across a free Windows app called "Cool Timer".
If you work on or near a computer through out the day I would suggest giving this a try and see if it can improve your work day.