November 04, 2009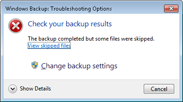 Last night at about 10pm I was finally able to make my first successful backup using Window 7's built in backup software.  After over two months and dozens of different methods that people suggested it came down the the simplest solution. In one of my previous posts Backing up with Windows 7 I showed the error message I was given during each backup attempt. Some of the articles I found online told me to run disk defragmentor, scan disk, clean my registry, delete extra users, modify my registies but none of them or I ever thought of the simplest approach; Create the missing folder. So last night I thought, Hey why don't I just create the stupid folder it keeps looking for. So I did and then I ran the smallest backup I could, and it worked!. So I decided to try a full backup, hoping it would work and after 30 minutes the backup completed successfully.
For others who may have had or come across this problem see below where I show the location of where I created this new folder.
I navigated my way on my computer to C:\Windows\System32\config\systemprofile\ Once I was there I created a new folder called "Documents" with a capital 'D'. Once that was created I restarted my computer and ran scan disk, just to be safe. Once that was completed I ran my backup., and everything worked like it should.
Note: You must be logged in as an administrator to create the folder in that location mentioned above.